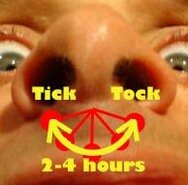 In humans, the nasal cycle is the normal ultradian cycle of each nostril's blood vessels becoming engorged in swelling, then shrinking. During the course of a day, they will switch over approximately every four hours or so, meaning that only one nostril is used at any one time.[1]


The nasal cycle is the periodic alternation in nasal airflow resistance between the two nasal cavities. It is thought to be regulated by the autonomic nervous system, via the sympathetic nervous system, possibly from the centres located in brainstem. It is controlled by the engorgement by blood of the anterior ends of the inferior nasal turbinates and the septal swell body in the area of the nasal valve.[2] The swelling of these areas are caused by congestion and decongestion of the venous sinusoids (veins) lining the nasal mucosa. The nasal venous sinusoids form a spongy tissue, similar to erectile tissue, which is particularly well-developed at the anterior end of the nasal septum and the inferior turbinate.

We do not usually breathe equally using both nostrils. At any given time, one nostril is more open and has the greater amount of air flow. The cycle has a periodicity of 4 hours on average, however it is highly variable. It is present in 85% of humans. It is likely to be found in all mammals. It can be affected by position [3], allergies and upper respiratory infections.[4] The nasal cycle is linked to the ultradian rhythm of alternating cerebral hemispheric activity.

The phenomenon was first noted by Kayser, a German rhinologist in Breslau, 1895. [5]

The nasal cycle is central to various breathing practices such as Pranayama, in Yoga and also in various systems of Alternative medicines. These systems believe the breathing pattern is directly linked to the working of the mind. The ultimate desire is to balance the left and right sides of the mind.
Sources:
Gotlib T, Samolinski B, Arcimowicz M. Spontaneous changes of nasal patency, the nasal cycle, classification, frequency, and clinical significance Otolaryngol Pol 56(4):421-5. 2002
Cole P, Haight JSJ. Posture and the nasal cycle. Ann Otol Rhinol Laryngol 1986; 95: 233–237.
A role for the nasal cycle in respiratory defense. Eur Respir J, 1996, 9, 371–376
Richard Kayser: Die exakte Messung der Luftdurchgängigkeit der Nase. Arch. Laryng. Rhinol. (Berl.) 8, 101 (1895)
Nasal cycle. (2008, September 11). In Wikipedia, The Free Encyclopedia. Retrieved 01:24, September 16, 2008, from http://en.wikipedia.org/w/index.php?title=Nasal_cycle&oldid=237656430




logged into post a comment.
Add Your Comment:
You must be